COREHR improvements
New COREHR reports in analytics
Canned analytics have been added so customers can do analysis based on HR fields. View seniority by department, age of employees, view training (assuming extended corehr is deployed).
Quick and efficient access to various types of employee data that can be classified by: department, role, profession and/or any other employee-related data managed within the employee's records. We can compare numbers of employees, average seniority and average age including drill-down into single-employee data.

If you have extended CoreHR, further analyses can be generated about qualifications, training, education, compensation, benefits given to employees and more.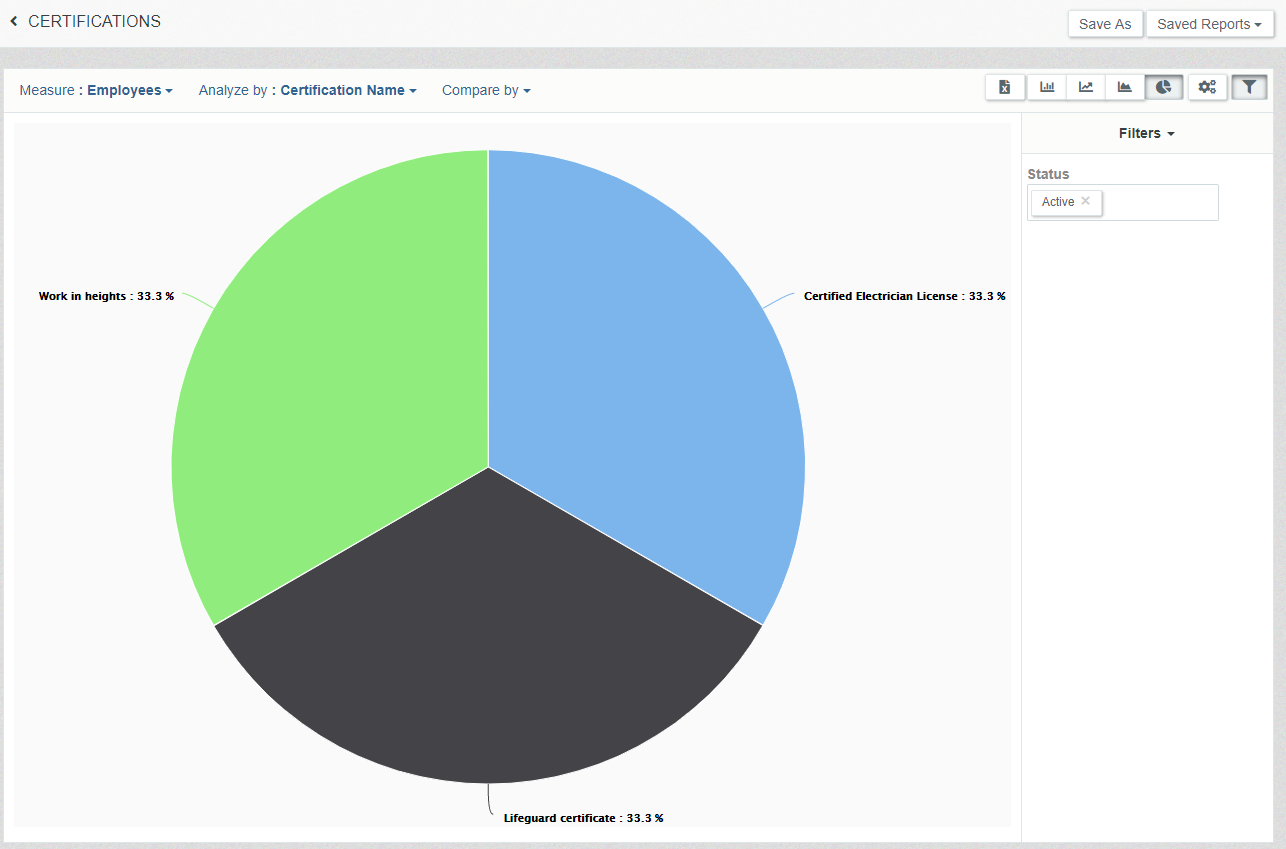 New COREHR employee summary window
A new summary window exists to show employee picture, employee id, phone number and email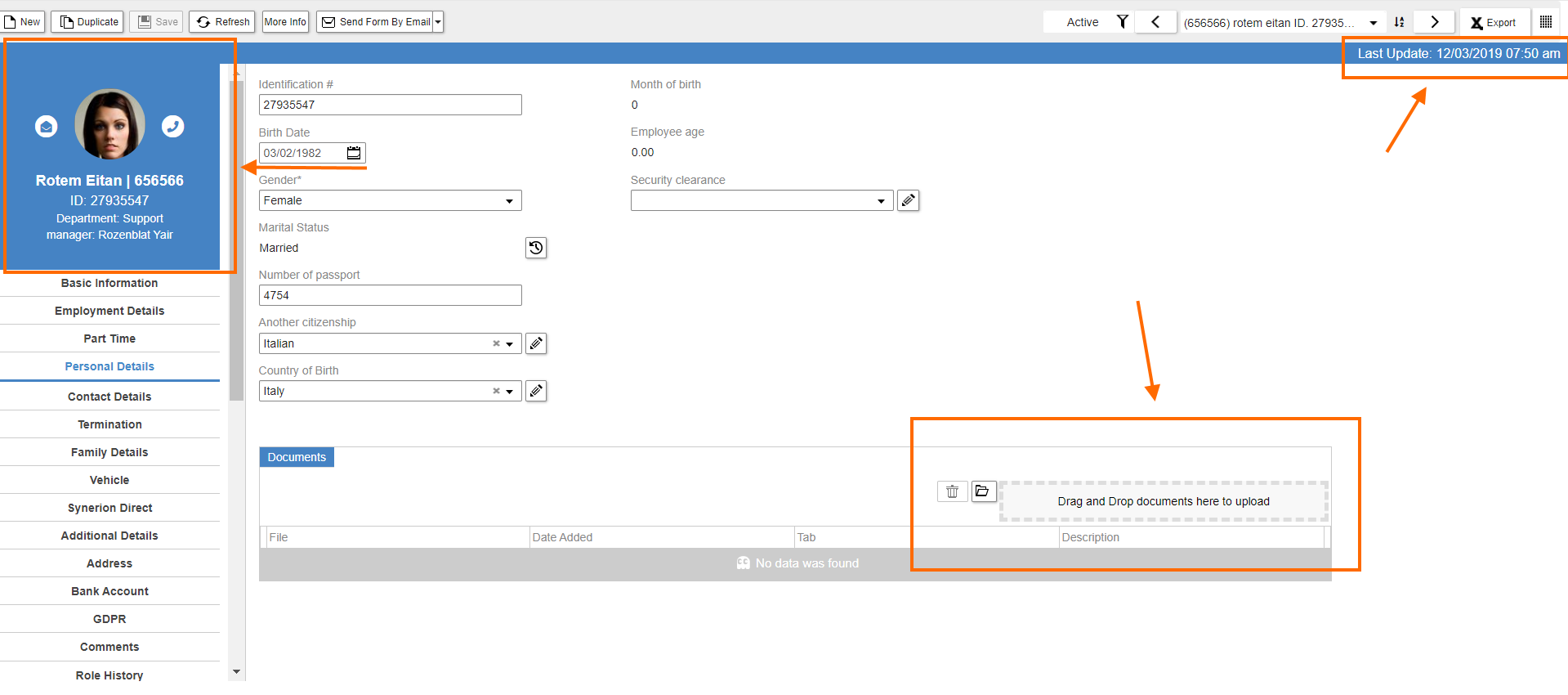 Drag and drop documents
Drag and drop documents from the desktop into COREHR !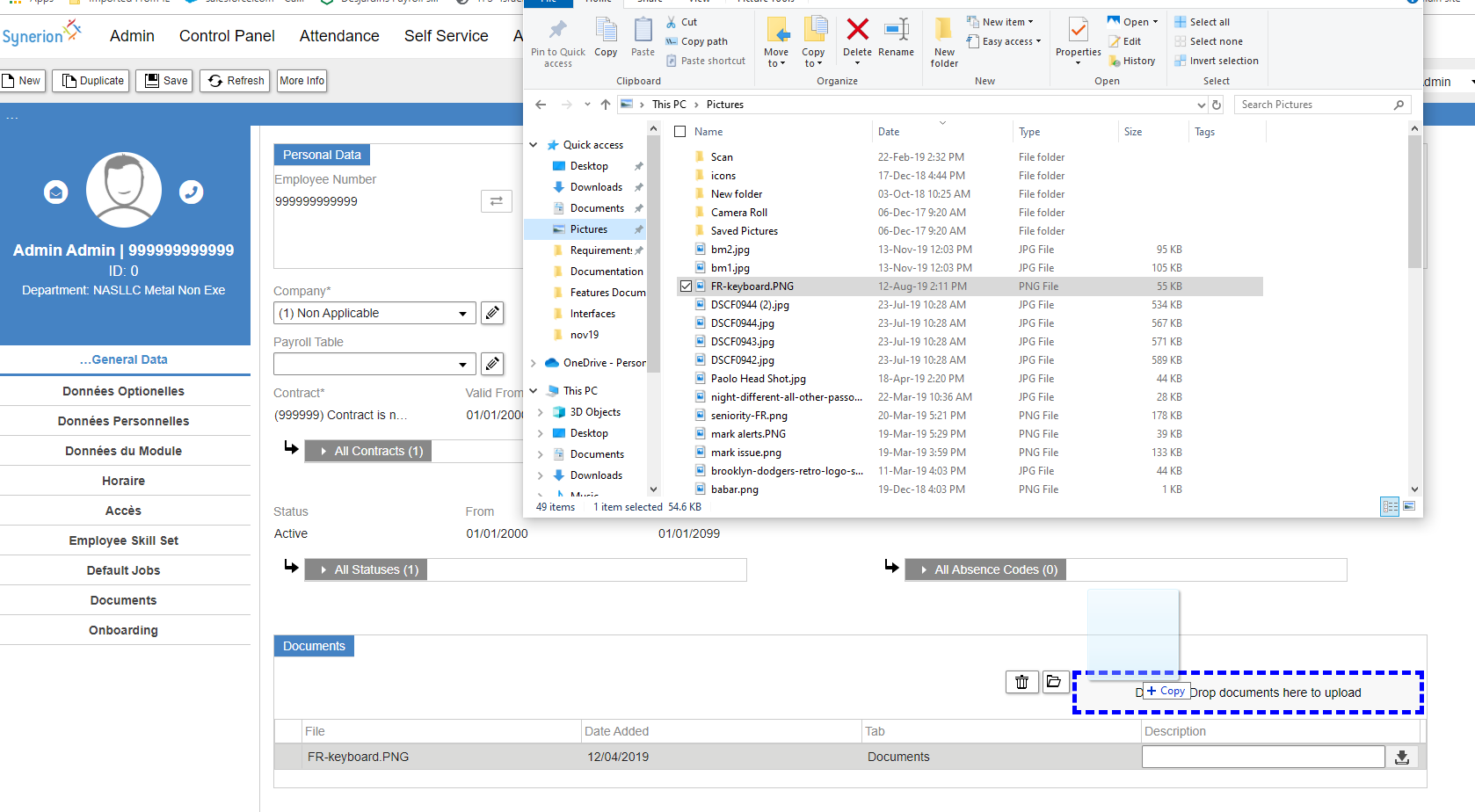 Quick link to attendance screen
Quickly switch to relevant screens from COREHR including attendance

Integration
Integration Improvements
Import TC levels (order/batch/part/process), employees valid jobs, payroll-related benefits, absence balances – opening balance, employee-lookup tables, professions, sort codes and more. The process can be scheduled and an alert can be issued in the event of an integration error.
Punch API
Employees can now use a third party device to clock in and out to Synerion. In/Out punches can be carried out using a secured API. For further details, please contact the customer account manager.
Privacy Update
GDPR/Privacy consent
Get employees to sign off on Synerion privacy policy. Applies only for employees or users with access to the Synerion system

Mobile
Callback punches in mobile / self-service screens
Employees will be able to punch in to call-backs using the application, including location reporting .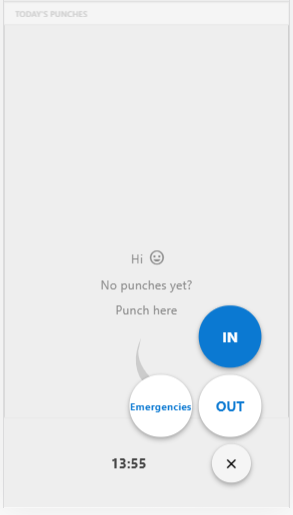 Absence Management
Editing an approved absence request
In cases where the period of a planned absence needs to be shortened and the request was approved, a feature has been added that enables the editing of an absence request. This way, the employee does not have to cancel the original request and submit a new one.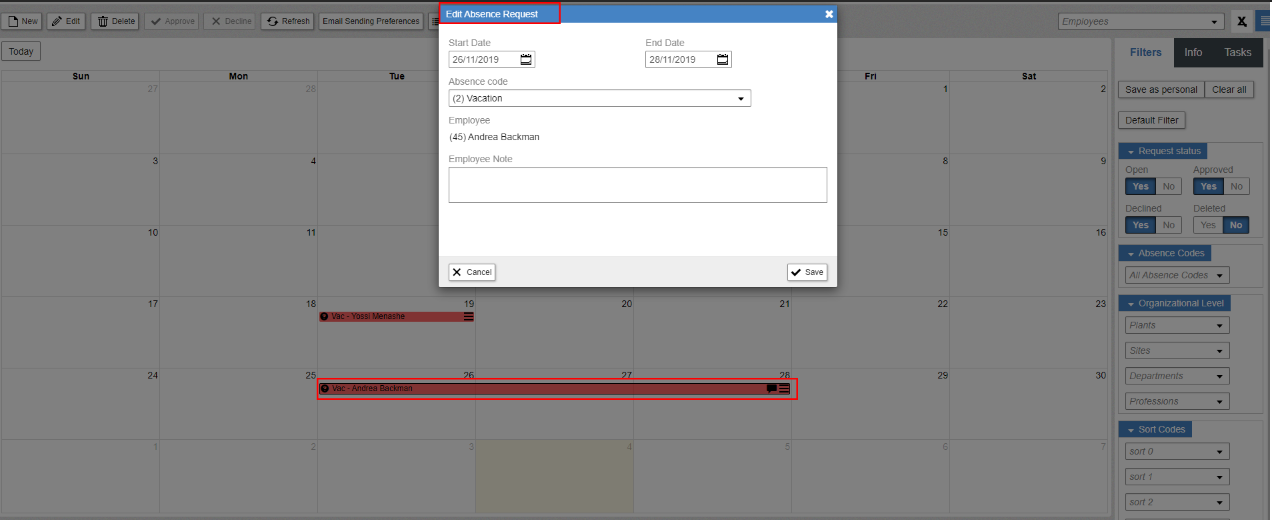 Scheduling
Shift Trading
An employee who is scheduled to a shift may submit a request to change his/her shift: The Employee requests to drop the shift, and other qualifying employees may pick them up. The changing of the shift takes place after their manager has approves the change. The process is simple, effective and easy, and can be executed by using the mobile up or via the web.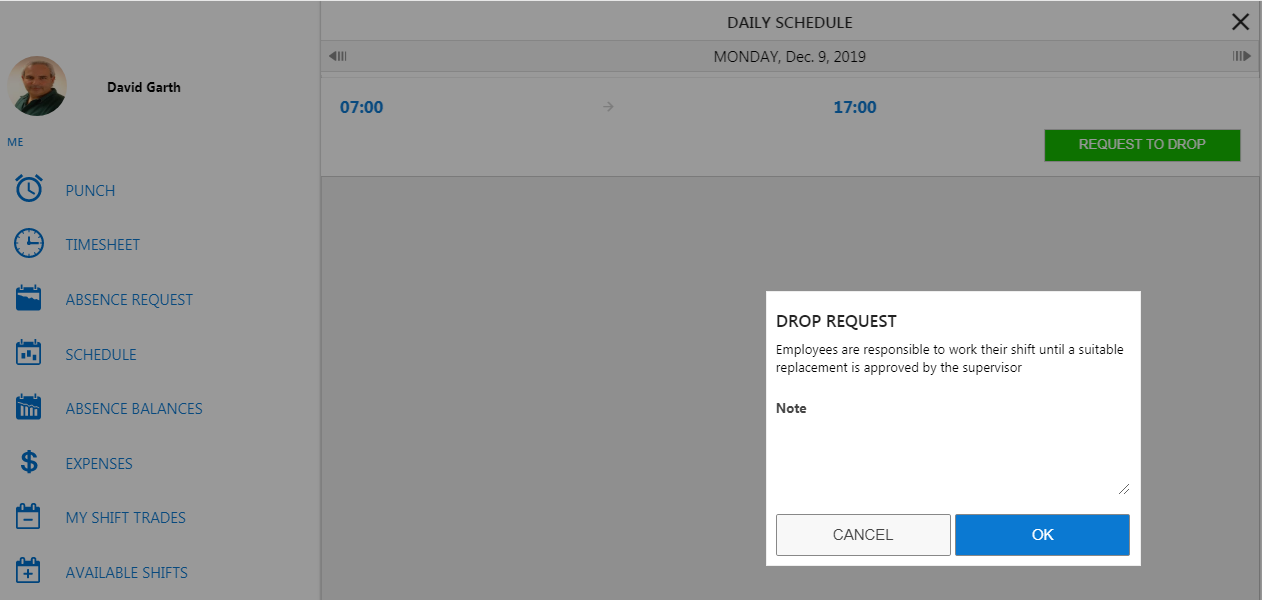 Employee based scheduling enhancements
Adding shift-color in the screen as well as the wall report, which helps the user better understand the overall picture and easily identify the shift.
In addition, the phone number was added as a separate column – in order to contact the employee/find a replacement when required and more.

Schedule "wall" report enhancements
Planned absences for that week, such as vacation, training, etc., in order to provide the department manager, the overall picture.
Budgeted Hours – Add Line
Control Panel
Control panel customization
The control panel enables the display of analytics data in order to gain a wider picture of the department/company. This feature allows selecting a display of one of the analytic graphs e.g. attendance/costing data/most changed etc.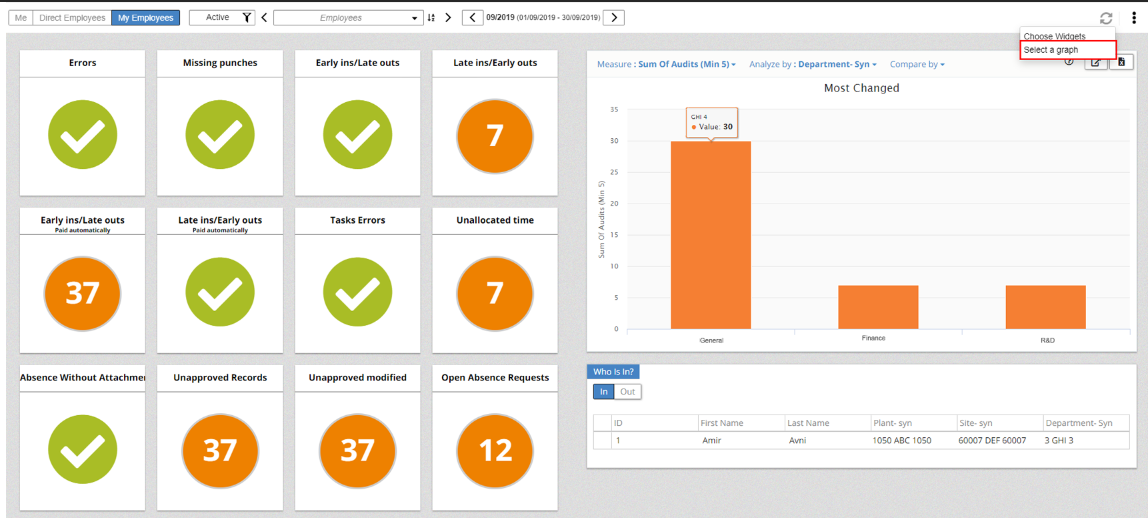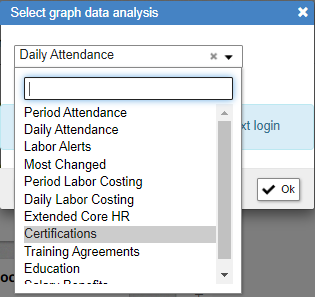 Bug Fixes
| | | |
| --- | --- | --- |
| ID | Title | Module |
| 145121 | CoreHR config – Save as – Go back – English tabs are shown in French | Admin |
| 145127 | Employee Screen Config –>Edit 'Active in Scheduling' field–> Field data is not shown, Synonim fields are R/O | Admin |
| 145125 | CoreHR config – Tab names in Fields area are shown in French, regardless on which language the user logged-in | Admin |
| 144324 | Unable to see Abs requests in IT51 Clocks | Clock |
| 147447 | User gets the punches screen although he is not allowed | Mobile / Self Service |
| 148026 | Generating TC – Default Daily Activity Report By 2 Levels report crash the application pool – RTCDAYA | Reports |
| 147915 | User duplication issue | Admin |
| 147360 | After importing, some details are not written correctly to LAUDIT table (systime timezone, reascode) | Admin |
| 148819 | Run Automatic tracks creation command – New tracks are not created | Scheduling |
| 148879 | Employee – SQL 2100 error | Scheduling |
| 148718 | When manager approves partial abs request of employee, all the employee assignment is deleted | Scheduling |
| 148649 | issue with Stat | Admin |
| 148842 | issue with SALDAY | Admin |
| 149236 | Issue with BA report – displays incorrect data when there is no BA record, it displays the next absences data in the wrong absence code? | Admin |
| 150240 | SBO – Sort0 lookup is case sensitive | Admin |
| 148991 | Master Adapter – Valid Job – When importing valid jobs more than once, the services cache are not updated with the new valid jobs | Admin |
| 149337 | Self Service – Chrome – Impossible to set 12:XX PM to both attendance and TC punches | Self Service |
| 149911 | SalDay- Issue with Attachments in Salcode in Attendance (Time zone issue) | Attendance |
| 150024 | Self Service – Punches – The MRU list is not updated properly when using the punches screen | Self Service |
| 65016 | MA – CSV – If id is alphanumeric, lookups should not be case sensitive (PSD, Sort0-4…) | Admin |
| 150561 | Self Service – TC – When setting decimal value to quantity field with 3 digits after the dot, the value is saved as 0 |  Self Service |
| 147716 | Master Adapter – ADP – After setting Organization ID, validation message "Retrieving ADP client credentials failed" is displayed | Admin |